"With demand for fine sporting art confirmed, Keeneland and Cross Gate Gallery will conduct the third annual Sporting Art Auction in November 2015. Last year's auction featured 175 high-quality lots representing fine sporting art, American paintings, and sculpture from renowned artists.
The Sporting Art Auction represents an inspired collaboration between Keeneland, the world's premier Thoroughbred auction house, and Cross Gate Gallery, the country's leading source for fine sporting art and contemporary British figurative painting."
A sporting art auction would not be complete without the fantastic work of famed equestrian artist, Milton Menasco. Below are several of his pieces that are up for sale. The good news is that these pieces are beyond exceptional. The bad news is that they come with a hefty price tag. I love 'Horses at Fort Riley' and 'Assault.'
SARATOGA YEARLING SALE
Oil on canvas, 25" x 30", signed
Estimate: $4,000 – $6,000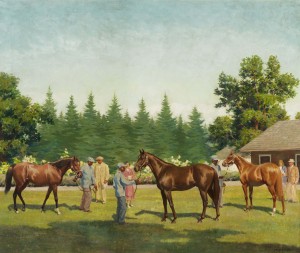 PARADE TO THE POST, SARATOGA & SCHOOLING AT THE GATE, SARATOGA (a pair)
Pastel, 10" x 13" each, signed
Provenance: Estate of Martha and Mack Miller
Estimate: $3,000 – $5,000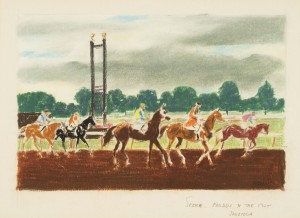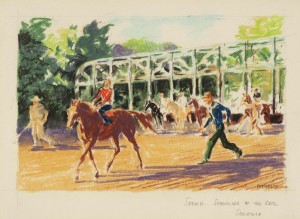 PRONTO
Oil on canvas, 9" x 12", signed
"In 1969, Claiborne Farm announce the importation of Pronto, Argentina's leading sire the previous season. Standing his first season in America as a 12-year-old, Pronto was reportedly syndicated for $1,600,000 with the syndicate including Ogden Phipps, Wheatley Stable, Pin Oak Stud, A. B. Hancock Jr., and others. An undefeated stakes winner at three in Argentina, Pronto sired three Horses of the Year in Argentina: Practicante, Indian Chief II, and Uruguayo, all three of whom were imported to America. Pronto led the Argentine sire list three times and in 1976 was repatriated to his native land.
Estimate: $2,000 – $3,000
HORSES AT FORT RILEY, KANSAS
Oil on canvas, 12" x 16", signed
Provenance: Estate of Martha and Mack Miller
"Established in 1853 to protect the people moving westward along the Oregon and Santa Fe trails, Fort Riley soon became a major cavalry post and school. In the years following the Civil War, it served as a base for skirmishes with the Native Americans. By 1887, the fort had become the home of the United States Cavalry School and over time developed into one of the finest in the world, rivaling the French and Italian Cavalry Schools. Due to the amount of excellent horsemen stationed there, horse shows, hunts, and polo matches flourished at the fort. Despite the horse being phased out of the current military, the fort is still an important infantry post and is home to the U.S. Cavalry Museum. Once the home of the famed Buffalo Soldiers at various points in the 19th and 20th centuries, the home of George Custer from his time stationed there is still standing and today is a house museum."
Estimate: $3,000 – $5,000
(The second picture below is not available at the auction, but it is part of this collection. It is titled, "Officer's Mount," and was completed circa 1943).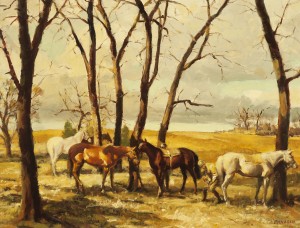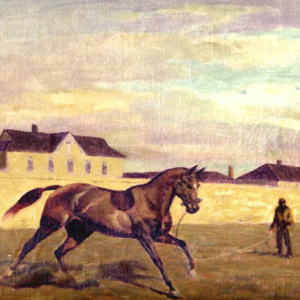 ASSAULT
Pastel, 16" x 20"
"Framed with the original mat inscribed "Assault, by Bold Venture out of Igual by Equipoise" and with a design that appears to be a layout for information if this piece was to be reproduced as a print. Nicknamed the "Club-Footed Comet," Assault defied a youthful injury to become the seventh Triple Crown winner in 1946. He was bred in Texas by Robert Kleberg Jr.'s King Ranch. Barely 15.2 hands tall, Assault was described by jockey Eddie Arcaro as being "on the delicate side." Assault was plagued by injuries and illness throughout his career and yet he posted 18 wins in 42 starts from ages 2 through 7. Assault was inducted into the National Museum of Racing Hall of Fame in 1964. Retired to King Ranch, he proved to be sterile and remained there until his death in 1971.
Estimate: $3,000 – $5,000