I came across equestrian artist Lisa Curry Mair of Canvasworks Designs on Instagram (@vtcanvas), and I am head over heels in love with her work! And the good news is that if you live in the Harford County, Maryland, area – you can see her art in person at Ladew Gardens!
Lisa has more than 20 years of experience creating large-scale works of art on canvas. She has painted everything from multi-wall murals, to showcase paintings and wall hangings, to room-size floorcloths.
"Moved by the countryside around her and taking inspiration from 18th and 19th century artists, Lisa's work is filled with peaceful scenes of days gone by – an elegant lady gracefully riding aside while out foxhunting, a peaceful scene of a tall ship sailing into a harbor, or a regal portrait of a gentleman and his hunting dog."
If you're in the Monkton area this Saturday the 6th, stop by Ladew Gardens for their 9th Annual Garden Festival! "The Garden Festival has become the most anticipated specialty plant, garden ornaments, and antiques sale in the region, featuring an exclusive collection of vendors from throughout the eastern seaboard. Garden Festival guests can shop from more than 45 vendors offering hard-to-find perennials and annuals, unusual exotics and container specialties, decorative garden furniture, urns, statuary, and other architectural treasures."
Lisa will have two of her works on display at the Festival – see them below:
"Navigating the Brook," 3' X 6' original painting on canvas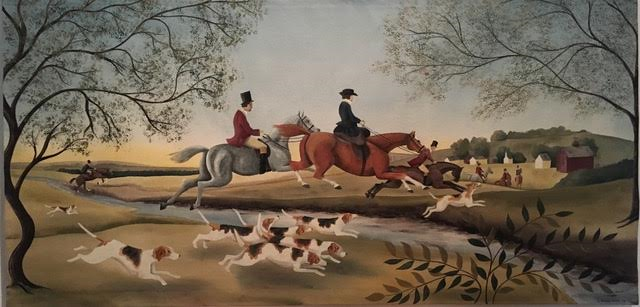 "Village Meet," 3' X 6' original painting on canvas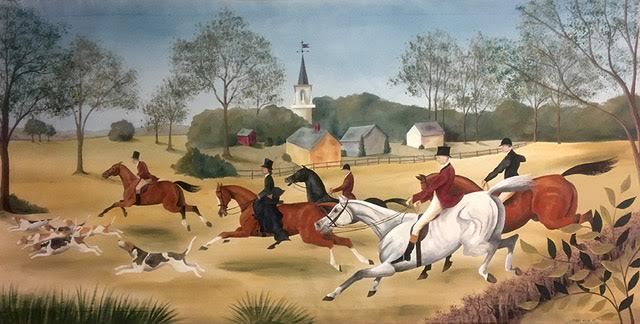 To see more of Lisa's work, please visit her website here. Also, see below for two examples of other types of painting she does – on saddles and boots!! Aren't they amazing?!